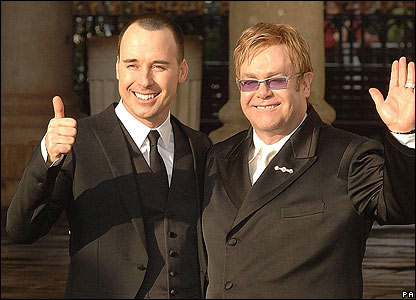 All sorts of gay men having baby news this week: Sir Elton John and his partner David Furnish announced the birth of their son, Zachary Jackson Levon Candle in the Wind Furnish-John (Just kiddin' about the "Candle in the Wind" part) by surrogate mother on December 25. (That's one well timed baby! Only Sir Elton could immaculately conceive and birth a child on the same day as our Lord!) From Us magazine via Towleroad:
"The baby boy, who was born Dec. 25 in California via a surrogate, weighed 7 pounds, 15 ounces. 'We are overwhelmed with happiness and joy at this very special moment,' John and Furnish tell Us in a joint statement. 'Zachary is healthy and doing really well, and we are very proud and happy parents.' This is the first child for John, 62, and Furnish, 48. The couple married in 2005 after 12 years together. A rep for the couple has stated that they intend to protect and respect the privacy of their surrogate, and will not be discussing any details relating to the surrogacy arrangements."
A lady loving lady friend of mine got into hot water when she questioned the appropriateness of a 62 year old man and a 48 year old man having their first child at such an advanced age on her Facebook page. A lot of her friends tore into her for being ageist and unfeeling; I have to say, I basically supported her. Is it fair to bring a child into the world when you're that old? When the kid is old enough to "graduate" Eton, or whatever posh school he is sent to, Daddy Elton will be 80 and Daddy David will be 66. I also have some concerns on whether a known diva such as Sir Elton will be much of a hands on dad; after all, he is known for being a self-centered, petulant, pampered, jet setting prima donna. Is this kid going to be just another example of a spoiled but neglected "Hollywood" kid (or, since they are British, "Hampstead Heath" kid…) who is largely raised by a constantly rotating staff of nannies and domestic help? Are little Zach's two daddies actually going to raise this child, and change his nappies, and read to him at bedtime, and go to his school plays and footie matches? I hope so, and I wish them the best of luck, but I have my doubts. Hopefully, their decision to have a child was a love based decision and not one based on publicity and the need to have the most sought after fashion accessory available, living offspring.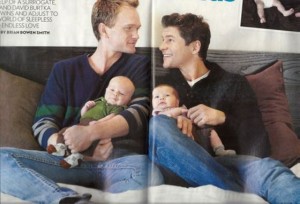 In other Gay Baby Daddies News, beloved icon Neil Patrick Harris and his partner, actor David Burtka, have sort of clued us in on who is the bio dad of their new twins, Harper Grace and Gideon Scott born on October 12, also by surrogate in a splashy article in People magazine. (Is it required that Big Gay Stars have partners named David now? Also: David Burtka is not "just" a Hollywood Trophy Husband; he's a respected New York stage actor.) Each actor is the father of one of the twins who are (obviously, since they are a boy/girl pair) fraternal. One egg was impregnated with NPH's uh, seed and the other with Mr Burtka's. Which is sort of awesome since that allows both partners to be completely emotionally invested into their children but it's also sort of scary since it could lead to a host of legal issues if, (deity of your choice forbid) they ever break up. Yes, gay marriage and procreation are going to lead to ALL sorts of interesting court cases in the years ahead!
And, I have to say, I love Neil Patrick Harris. He's the best role model for Gay Hollywood and his success sort of nips in the bud the bitter commentary of others who warn leading men to not come out of the Hollywood closet for fear of career reprisals. Both Richard Chamberlain and long time bitter old poof Rupert Everett have been quoted in recent days warning of the career dangers for leading men who leave the closet. NPH has been professionally out for several years now, and his career seems to be doing just fine and middle America seems to be embracing him. What Mr Chamberlain and Mr Everett fail to understand is that once EVERY actor comes out, there won't be any potential career backlash and yes, it will be tough for the first few actors out of the closet, but it gets BETTER as more and more actors come "clean". And, you know what? Straight America/the World will be ok about that. Gay people haven't had problems with loving and respecting STRAIGHT leading men/women in film/TV/stage. Yes, we sigh and wish they "played for our team" but we move on and we keep paying to watch them on cinema and television screens and on stage; straight people already do, and will continue to support gay actors playing leading roles. I mean, look at Elton John. He really wasn't fooling very many people for the first 20 years of his career when he was closeted and he became one of the biggest stars in the world! Yeah, a couple devout female fans cried themselves to sleep when the truth came out, but Sir Elton seems to have survived. The future Tom Cruises and John Travoltas of the world are going to eventually prosper just as well.