The Movies Column took a brief hiatus during SIFF (MOVIE OVERLOAD), but it's back with a fresh list of recommendations for this weekend's viewing pleasure.
New Releases:
Green Lantern, directed by Martin Campbell (Casino Royale) starring Ryan Reynolds, Blake Lively and Peter Sarsgaard. Hollywood's latest comic book adaptation, potential franchise, potential mega blockbuster, has a lot going for it. First, the impeccably built Ryan Reynolds hardly wears any clothes, and what he does wear is skin tight. Second, his supernatural powers are bestowed by a magic ring, totally Pretty Pretty Princess. Third, the premise is that heroes and villains gain supernatural ability by harnessing the energy in colors, and as one who considers himself an artist, (including 2 semesters of painting) I totally respond to that. Towleroad does an admirable job summarizing the brainless joy of this movie. Green Lantern sounds like a perfectly decent excuse to stay inside and watch a movie this weekend. (Playing all weekend, Pacific Place and Cinerama)
Pride Week at Central Cinema
Come celebrate Pride with the awesome folks at Central Cinema with a selection of camp "classics" and a reprise of the infamous Way Gay Singalong. All films are at Central Cinema, 1411 21st Avenue.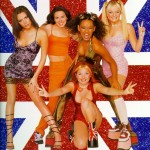 Spice World (1997) directed by Bob Spiers, starring Geri Halliwell, Victoria Beckham, Emma Bunton, Mel B. and Mel C. (AKA the Spice Girls). Tell Me What You Want, What You Really Really Want. I Want A, I Want A, I Want A, Zig A Zig Ah. Monday night is Central Cinema's Gay Pride Pajama Party, which means an evening with a film that plays best in a room full of screaming 13 year-old girls (or gay boys in this case). Wearing pajamas highly encouraged for this late '90s nostalgia trip. Monday, June 20, 7:00 p.m.
Troop Beverly Hills (1989) directed by Jeff Kanew, starring Shelley Long and Craig T. Nelson.
When a bored Beverly Hills housewife (Long) seeks a new hobby after her divorce, she gets more than she bargained for when she takes on the role of den monther to her daughter's Wilderness Girl Troop. This month's installment of Central Cinema's Favorites series will be presented by Three Dollar Bill Cinema's very own Corianton Hale. Wednesday, June 22, 7:00 p.m.
Way Gay Singalong: Divas, Gay Icons and Camp Classics from Wham to Lady Gaga. Central Cinema brings back the Way Gay Sing Along for a night of outrageous music videos from gender bending provocateurs, pop divas and hunky heart-throbs. Subtitling provided for maximum sing-ability. Thursday, June 23, 8:00 p.m.
Other Seattle Screenings
Uncle Boonmee Who Can Recall His Past Lives, directed by Apichatpong Weerasethakul The latest film from Thai director Weerasethakul won the Palme D'Or at Cannes in 2010. An elderly farmer contemplates his life and reincarnation as he lays dying from kidney disease. Ghosts appear. Insects hum and the breeze blows. It's described as a singular film experience, both existential and playful, tranquil and startling, personal and poetic. (Playing all week at Northwest Film Forum)
Ryan Hicks is Development Manager for Three Dollar Bill Cinema, a film fan and contributor to Seattle Gay Scene.