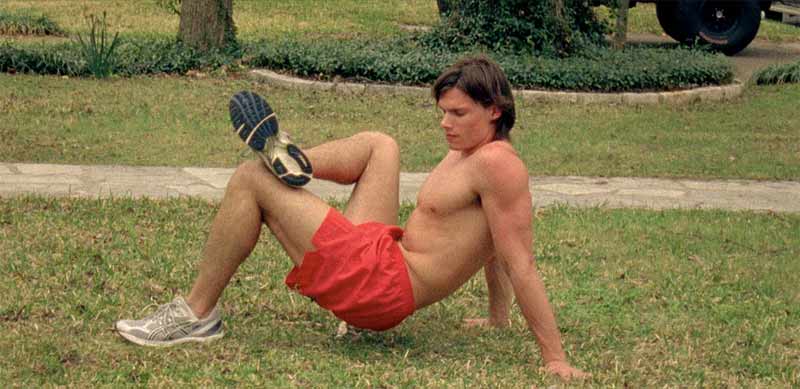 Still from 33 TEETH, showing today at SIFF!
It's ShortsFest Weekend at SIFF, which means that approximately eleventy million short films will be screened between last night and Monday evening – not the least of which is an exciting package of films for and about gay men called GROWING UP GAY playing today at SIFF Cinema at The Uptown at 4:00pm. It pretty much always sells out, so you want to buy tickets now! Click HERE and get your tickets! Why spend a gorgeous summery day inside? Because there's a good likelihood that this will be the ONLY time you will ever get to see these films!
Here's the deets on the films in that package: 
33 Teeth

USA, 2011, 8 min.

The shy boy next door wants a piece of his sexy neighbor.

Little Ones

USA, 2011, 24 min.

Never deny the nurturing instincts of a gay man, especially at a dinner party with the neighbors.

Happy Father's Gay

USA, 2011, 4 min.

There's always been something funny about Dad.

Love is Not Enough

USA, 2011, 11 min.

He's found the perfect partner—but his man wants more than monogamy.

The Men's Room

USA, 2011, 15 min.

Desire and fear mix to create a dramatic encounter for a young man in a seedy cruising spot.

Out

USA, 2011, 10 min.

Released from prison after 15 years, a man fights to reconnect with his estranged son.

Steam is Steam

Canada, 2011, 11 min.

In the baths, exposure comes with the risk of being revealed.



Of course, there's also a whole bunch of other shorts packages going on to check out HERE. Don't forget to check out the selection of feature-length films presented at SIFF this year with Gay & Lesbian themes.
Not the least of which is this film that I will absolutely be seeing – no matter what - called THE BRITISH GUIDE TO SHOWING OFF. Check out this trailer here. It's not really what I'd call safe for work, or interesting to the boring people, but holy gods this looks amazing:
 Here's the blurb:
Sculptor Andrew Logan, who won his first costume prize on Coronation Day in 1953, founded the "Alternative Miss World Contest" in 1972. He has reigned over this unique and fabulous event ever since. Each contest is a performance art piece in its own right, a celebration of the sexually subversive spirit of the times, and a showcase of the extravagant, the groundbreaking, and the eccentric. Stupendously attired contestants such as Miss Tuna Turner and Miss Placed Enthusiasm" parade alongside hosts and judges, including outsider icons like Divine and Derek Jarman. Using the 12th show in the series as the primary pivot point, the film follows Logan and his motley crew as they mount the show in the Roadhouse, with Ruby Wax presenting. The footage of past shows alone is enough to captivate and charm, and director/animator Jes Benstock's playful mixed-media collage and animation are perfectly in tune with the spirit of its subject.