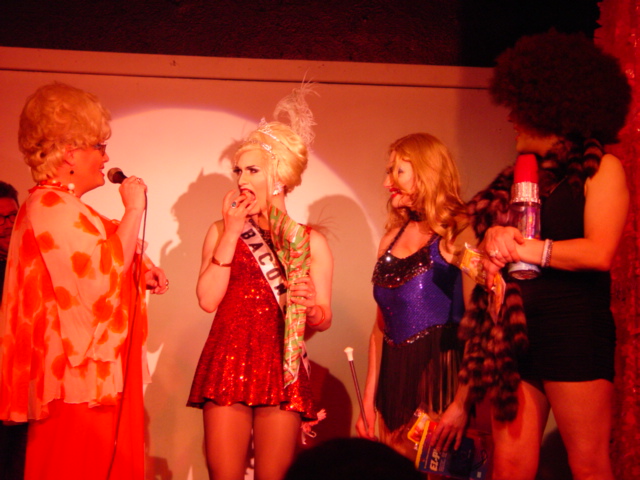 Last year's pageant with with winner Jinkx Monsoon
Devotees of Miss Sylvia O'Stayformore were likely a bit surprised to not only see THE MISS BACON STRIP PAGEANT happening barely a week after all of the Pride-related madness, but to also see BACON STRIP: TRANNY VACATION happening the next week!
Two Bacon Strips in Two Weeks? Fabulous! Sign us up!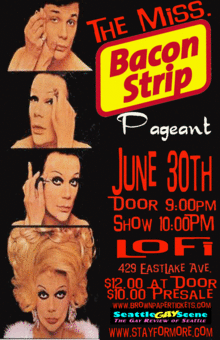 First is the MISS BACON STRIP PAGEANT happening this Saturday, June 30 at Lo-Fi (429 Eastlake Ave) – this annual event tends to be a bit, shall we say, EXTRA Baconlicious, so they had to move it to a larger venue. If you haven't been to Lo-Fi, it's on Eastlake & Republican – easily accessed by taking Roy St. west, down off of the Hill, and follow it across  I-5 and continue until it turns into Eastlake. It's about a block south of the big intersection of Mercer & Eastlake all merge together.
This year's "celebrity" judges include: Ms. Ade, Peggy Platt and SGS's own Michael Strangeways.
And which Girls will be fighting for the title?
Arianna Toadstool
Areola Borealis
Ursula Major
Olivia LaGarce
Cherry Sur Bete
Ho Mo Arigato
The Contestants will be judged on the following:
1) Audience Response
2) Appearance, ie Costume/Hair/Make-Up – not that they are "pretty" but they pulled off the look they were going for.
3) Performance – is this a polished, well- executed performance with energy and charm or something whipped together at the last second…
4) Originality/Creativity – is this a unique and interesting performance and presentation, or something we've seen before done by a thousand other queens
5) Charisma – do they have stage presence and the ability to be a "star" on stage and perform under pressure
6)"Bacon-osity" – do they embody the spirit of "Bacon Strip"? Bonus points for actually including bacon in the act.
You would be well advised to get your tickets in advance for this one!
THEN! Because you'll be hungry for MORE BACON! Next week, on July 7, will the TRANNY VACATION! back at the regular homeof Bacon Strip, Re-bar,m featuring the amazing cast that we've all come to love and adore:
Maxine DeLaCunt, Jackie Starr, Olivia LaGarce, Kerry and James Darling, Mama Tits, Ursula Major, Cherry Sur Bete, Anita Goodman, And more!
Regular rules apply! If you show up in costume – this time in summery resort wear, you get $2 off of your ticket at the door.  Advance tickets can be purchased here!
And of course, we'll be there with you – Laughing our fool heads off at the antics happening on both of those stages.
Enjoying the Bacon…