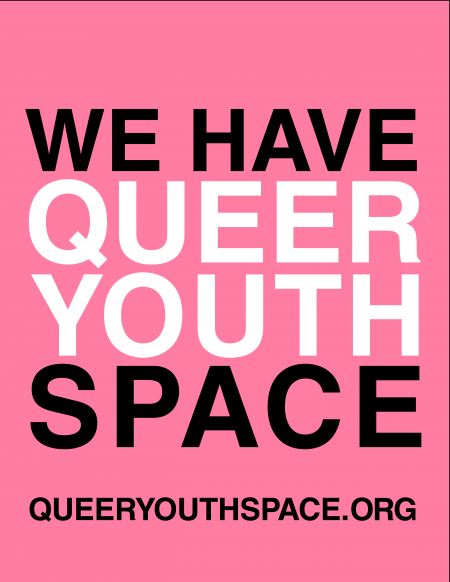 After more than two years of active campaigning ("We Need Queer Youth Space!"), SPACE had been found! MASSIVE congrats to our buddies at THREEWINGS!
Here are the details from the Press Release:
QUEER YOUTH SPACE OPEN HOUSE


The federally recognized non-profit THREEWINGS has signed a lease for a 1750 square-foot physical space on the Capitol Hill neighborhood of Seattle, Washington. The space, located at 911 E Pike Street #208, will soon become a community center for queer young people. The operations for the THREEWINGS' three-pronged vision is: cultural arts and activism, health and wellness, and research, education and employment for queer youth. The youth-led center will be home to numerous events for young queer people and serve as a catalyst for change in Seattle and beyond.

Through their We Need Queer Youth Space campaign, THREEWINGS has striven for the past two years to create and sustain temporary spaces, workshops and other diverse programming for the queer young people of Seattle, with the ultimate aim of establishing a permanent physical space in order to serve the community more extensively. On August 3rd from 7 to 9 PM, THREEWINGS will host an open house that will showcase for the first time the space that will become the cultural arts center. Young people, adult allies and members of the press are strongly encouraged to attend.

The acquisition of this space is a major milestone in THREEWINGS' history, and is the product of over two years of work that the organization has sustained in pursuit of a permanent home for queer young people. The group was committed to having a space that was fully accessible, despite the availability of spaces and costs that were more lenient.

Commenting on the difficulty that the organization has faced in acquiring the space, THREEWINGS board member Emma Petersky explained that "many of the potential spaces were limited by the Americans with Disabilities Act; the accessibility standards often did not comply with the older buildings in the Capitol Hill neighborhood." Pleased with the accessibility of the new space, Emma explained that "the Pike and Broadway space has a large elevator and plenty of room for people of all abilities to build a community together."

The We Need Queer Youth Space campaign began in February of 2010 following the Queer Youth Mutiny, a public forum where young queer people from the greater Seattle area identified two central needs: (1) community organizing that is youth-positive and youth-led, and (2) a cultural gathering space created by – and for – queer youth. Since the spring of 2011, the THREEWINGS board of directors has been entirely led by young people from the greater Seattle area. Now, in the summer of 2012, THREEWINGS will open a cultural gathering space in Seattle that will forever change the city's expectations of what young people can accomplish.
 Learn more here at THEIR WEBSITE or at their Facebook page.