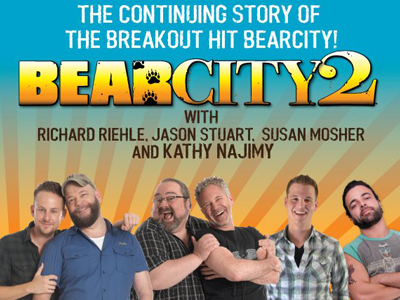 Film nerds rejoice…the website for the 17th Annual Seattle Lesbian & Gay Film Festival, happening October 11-21, 2012 and produced by our friends at Three Dollar Bill Cinema, is now LIVE and ready for your perusal…not to mention ticket and pass buying.
SGS is once again a Media Sponsor for the annual film par-tay and this is just the start of our exhaustive coverage of the popular festival. We've already started loading up some of our favorite films/events into our Main Calendar.
We're especially looking forward to "Bear City 2: The Proposal" the sequel to the delightful bear-iffic rom/com that opened the festival a couple of years back. The film screens at The Egyptian on Friday, October 12 at 9:15pm with a PRE-screening party at Diesel happening BEFORE (and maybe after)
Here's some skinny on the film/screening:
The cast and characters from BEAR CITY are back, and they're headed for Provincetown for Bear Week! Wedding bells are ringing for former lothario Roger (Gerald McCullouch) and his love-cub Tyler. The pals gather at the B&B owned by Rose (Kathy Najimy), the sharp-tongued mom of their buddy Brent (Stephen Guarino), but the altar-bound couple faces temptations from the hot daddies and former f-buddies all around them. Featuring cameo appearances by Kevin Smith, Frank DeCaro, Varla Jean Merman, and other bear-lebrities, this latest BEARCITY adventure brings all the fur and fun that fans expect and first-timers must see to believe.

Run time: 101 min. | USA | 2012
Genres: Comedy, Romance
Directed By: Douglas Langway
And, some info on the pre-func at Diesel:
Friday October 12, 7-9 pm

Pre-screening reception

Diesel
1413 14th Avenue,
Seattle, WA 98122

Before BEARCITY 2: THE PROPOSAL, come enjoy a bite to eat and a discount Absolut cocktail with the furry & fabulous gang at Diesel.

And come back after the show for more drink specials and woofy good times!