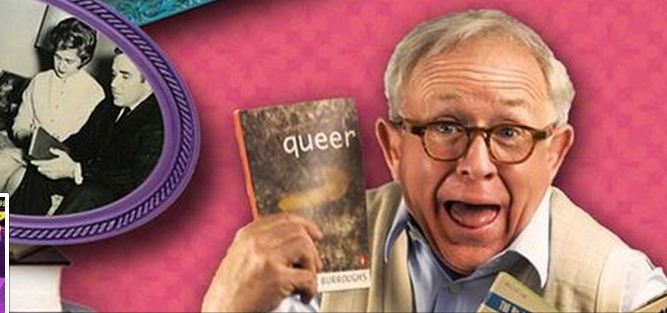 Hey, kids! The Weekend Calendar is up and I'm including tonight's (Friday the 14th) calendar below…check it out to see what's happening around town!
My big recommendation for tonight is the Leslie Jordan show at Re-bar. I saw it last night and Mr. Jordan, best known for his Emmy winning role on "Will & Grace" and for the cult queer film "Sordid Lives", is an absolute JEWEL of a performer. It's a very funny, rambling monologue that explores Mr. Jordan's crazy relationship with his mother; his journey to "Will & Grace"; the size of Billy Bob Thornton's tallywacker and so very much more. Mr. Strangeways is VERY picky when it comes to comedy/one person shows, and he whole heartedly recommends checking "Stories I Can't Tell Mama". Get your advance tickets here for $20, or pay $25 CASH at the door. (And, obviously it's 21+ w/ID)
Here's the rest of the Weekend Calendar…AND, I've been SLAVING over the Main Calendar as well; it was sadly  not up to date, so go check it out as well to plan on events for the coming weeks.
Have fun and stay safe!
The Capitol Hill Talent Show @ The Grill on Broadway. Week Five of the hottest talent show on the Hill as the stars compete to win the $1000 cash prize and a trip to Vegas! Join hostess Mama Tits from 9pm to 11pm and check out  a WIDE variety of talent…you never know what you might experience… No Cover. 21+ w/ID in the Atrium. NEXT WEEK: THE GRAND FINALE!!!
Leslie Jordan: Stories I Can't Tell Mama @ Re-bar. Emmy winning actor/comedian Leslie Jordan in his one man show spills ALL the beans about working on "Will & Grace", stalking Billy Bob Thornton and his trouser snake, and his fascination with straight porn and trashy hustlers. It's a no holds barred night of southern fried comedy. Not to be missed. $20 in advance/$25 at door. (Re-bar is cash only). Doors at 7pm/Show at 9pm. 21+ w/ID.
Trouble Dicso @ Q Capitol Hill. Trouble returns to Seattle as the beloved dance party moves to the new Q for the second Friday of the month. Join resident DJs Dicso, F.I.T.S and Justice & Treasure on a journey into the cosmos of dance music…" With special guests every month. Visuals by Lux Collective. 8pm to 3am. $5 before 11pm/$7 after. 21+ w/ID.
Electric Dreams/80′s Night @ Lobby Bar. Join DJ Disco Vinnie for a night of your favorite hits of the 80′s. Every 2nd Friday. 10pm to 1am. 21+ w/ID.
Hussler @ Pony. A dirty/zexy night of dirty/zexy fun at everyone's dirty/zexy little bar. Hosted by Moist Towelette w/Hussler Hunks Kerry & James. Dirty dance the night away…10pm-2am. NO cover! 21+ w/ID.
Bareback Fridays @ The Seattle Eagle. "A Night to Commemorate The HARD Working STIFF!" No cover with Shirt Check at Door. W/DJ Mark Gentile. 9pm to 3am. 21+ w/ID.
Rain Country Dance @ Cuff Complex. Lesson: Basic-PlusPlus Two-Step 7pm-11pm. 21+ w/ID.
Cuff Complex:Friday Dancing with DJ Stacey Cooks. 11pm-3am, $5. 21+ w/ID.
Purr Video Lounge: VJs play the best mix of music videos in town 9pm-2am, No cover. 21+ w/ID.
Neighbours: Ultimate Dance Party with DJ Richard J Dalton and DJ Skiddle. 10pm-4am. 21+ w/ID. (18+ after 2am)
Lily Armani's Show & Tell @ Neighbours Nightclub 8:30pm, $10. 21+ w/ID.
Swollen Fridays @ RPlace. DJ E' spins R&B/Top 40 & VJ Flo'w rocks the video booth, $7. 21+ w/ID.
Lashes Cabaret with Lady Chablis at 9:30pm.
LeFaux @ Julia's. Celebrity Female Impersonator Show w/ host Jinkx Monsoon and Superstar Diva, Robbie Turner. Glitz, Fake Titz and more Bridal Parties than you can shake a dildo at! 10pm. $25-$45. All Ages