Cultural Appropriation has been a hot topic of recent. There is a thin grey line between respectfully borrowing elements of a heritage, and appropriating a stereotype to the degree of mockery.
In fashion, it's the designer's prerogative how they choose to interpret their inspiration. For instance, last week in Milan, Miuccia Prada presented a collection inspired in part by Japan's geisha iconography. One can see the definite influence of the traditional kimono folds in the garments, as well as a nod to the East with the bright blossom print. Throughout the collection the style and taste level that defines Prada clearly prevails. This was a classy and wearable collection and a great example of inspired design.
Controversial collections are bound to occur. And there is something to be said about causing a stir. This seasons most talked about controversy was over Jeremy Scott's 2012 collection. This writer and fashion fan is a big admirer of Jeremy Scott. His pop culture
whimsy makes his clothes bold, poignant, and sometimes knowingly comical. This season he took a direct line to the Middle East, creating kaffiyeh print scarves, and machine gun fringe. The most talked about look being a leopard sequin sheer burka over underwear. This collection tiptoed on the border between bad taste and edgy fashion, creating conversations about respect and decency over the blogosphere.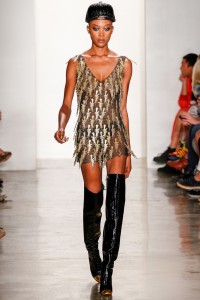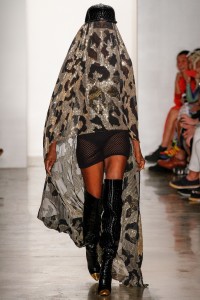 If use of traditional garments and heritage were reserved only for those born of that culture, would design ever progress? Much of that thin line between Borrowing and Appropriating is in the eye of the beholder, and it can be Hit or Miss whether or not it's offensive.  Is it homage, or is it perpetuating a stereotype.  Should people lighten up, or should people be more sensitive?
I suppose one thing is true; offended or not, if you're talking about it, perhaps the designer has done their job well.
You can see more of Jeremy Scott's 2013 "Arab Spring" line on his website here.
(Images courtesy Marcus Tondo / GoRunway.com)