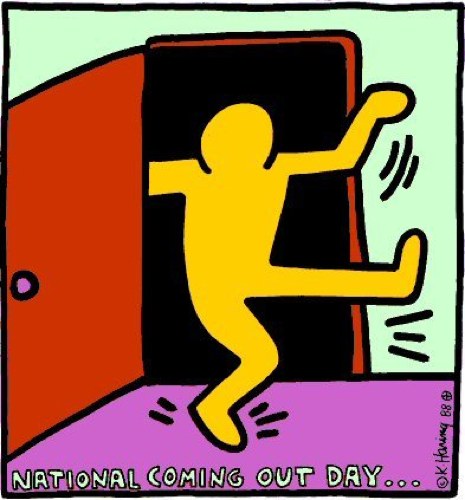 Today is National Coming Out Day!
Since 1988, October 11 has marked the day to remind ourselves and the world of the importance of LGBTQ visibility. It's only when we aren't seen that we can easily be ignored.
We mark this day as a community, en masse, so we can show the strength in our numbers in hopes that it will bring courage to those who are scratching at the closet door, waiting to come out. We mark this day to remember a time when it would have been impossible for us to be out, and celebrate the strength and conviction of the pioneers who blazed our trail. 
For those of us that have long since crossed that closet threshold,  we too easily forget what it's like to be afraid of our own truth. We concern ourselves, often with good reason, with what other people might think of us, how our working lives might be affected, but most often by how our families might react to the news. We cower in fear of the fallout; what will our parents/friends/clergy/scoutmaster, etc. think. It's hard to fathom that, ultimately, what they think is irrelevant. They are only fellow humans who have been taught either to love or to hate – and whatever that may mean for their own lives, one cannot let that alter, influence or affect our own – and it most certainly cannot prevent us from being who we really are.
It's an odd thing, frankly. We're the only minority group against whom it is not only acceptable, but frequently LEGAL, to discriminate. We're immensely lucky here in Seattle, and we tend to forget about the relative comfort of our politically dark blue enclave here. To the point that when someone in our own fair state makes an anti-marriage equality comment, or says something blatantly homophobic, we stare at them almost as though they're lost – as though a poor tourist from southern Kansas wandered in, clearly unaware of the comfortable blue world we'd created for ourselves and began to spout right-wing platitudes. It is also for those poor wanderers that we observe National Coming Out Day – so they might see the ignorance, and arrogance of what they've been taught – and show them how much the lies and ridiculous rhetoric of the social conservatives are transparently false, and are ultimately damaging to youngsters struggling to live their lives honestly.
Because at a certain point in one's life – and it's different for everyone – you have to make peace with who you are, and remember that no matter what any religious or political talking head might say, you're still a real, live, valid human being entitled to live your life exactly as you are, secure in the knowledge that although you may not see it in that moment, a life outside of the metaphorical closet is a far better life to live. And hopefully, those of us who have long since exited that closet will be able to show you that there's a community of supportive, kind, and decent people out in the world who are here to help.
The closet is a dark, and lonely place to be. Come out. It isn't always an easy exit from the closet, but there's a world of love and happiness outside of it, and you deserve to take your fair share.
Happy Coming Out Day!
Does this mean we get cake?