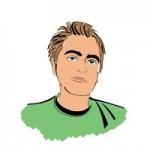 Bill W – Publisher Emeritus
Referred to only as Bill W., he has been active in Seattle's gay scene for close to twenty years. And with a unique perspective on local gay entertainment his blog doesn't fixate on any specific genre but covers everything gay; from the classic mega-circuit party to Seattle's vibrant alterna-gay scene. The founder and publisher of Seattle Gay Scene, he is proud that in 2011, the site will begin its fifth year of operation.
Twitter – @BillAtSGS

Michael Strangeways – Editorial Director
Michael Strangeways writes, edits and does about a million other jobs for Seattle Gay Scene. A semi-proud Midwesterner by birth, with the waist line to prove it, he's lived in Seattle since 2000. In his spare time, he gets slightly obsessive about his love for old movies, the novels of Angela Thirkell, "otters", RuPaul's Drag Race, vodka, chocolate, "I,Claudius", Lizzie Borden, Natural disasters, show tunes, Weimar era Germany, flea markets, pop surrealistic art, the sex lives of Hollywood actors both living and dead, the films of Joe Gage, kitties, chicken fried steak and David Bowie. But, not necessarily in that order.
Twitter - @MJStrangeways

Les Sterling – Creative Director
Les Sterling is an photographer and experimental filmmaker who lives in Seattle, who leads the creative charge for Seattle Gay Scene, including producing of SGS-TV and the SGS Podcast. When he's not behind a camera or working on SGS, he's indulging obsessions with Doctor Who, interesting documentaries and experimental queer film. Les has an almost religious preoccupation with design and proper spelling – typos are his Kryptonite. His own personal hell would involve waiting in a long line while reading a poorly edited newspaper written exclusively in Comic Sans. Find more about Les on the interwebs at www.LesSterling.com.
Twitter – @LesSterling

Meet our fabulous freelance contributors!

Lainy Bagwell – Music & Film
Lainy is director of the award winning documentary BLOOD ON THE FLAT TRACK, and is an avid evangelist for local and DIY musicians (as evidenced by the soundtrack to the film). She was raised with a broad variety of music, which has made her a local authority on even the most obscure musical artists out there.

 Sylvia O'Stayformore – Performance Art & Nightlife
Sylvia O'Stayformore has been performing since 1991. She started out in a little town in Northern Utah and slowly worked her way up to the biggest city Utah had to offer. When that was not big enough she packed all her things and moved up to the temperate climate and friendly people of Seattle. Sylvia has adopted the title "The effervescent hostess" and has been charming the audiences here in Seattle since 1997. Sylvia as local celebrity has performed in over 1500 hundred drag shows, brunches, fundraisers, benefits, cabarets, radio shows, movies, weddings, premiers, openings and plays. Check out Sylvia's website here!
Kathy Ann Bugajsky – Staff Photographer
In addition to documenting the world for us in photo form, Kathy is also our leading authority on all geekly matters. A seemingly endless source of knowledge on all matters of pop culture and sci-fi. She's featured frequently on the SGS Podcast as an authority on Doctor Who, Battlestar Galactica, Torchwood and any obscure sitcom from the 80's you can think of. She's also the official SGS Correspondent for the annual Emerald City Comicon.You can check her out on Facebook or Twitter at @KathyAnnPhotos.
 DC Williams – Television & Pop Culture
DC Williams, a Seattle native and known homosexual, spends his days finding people jobs but come nightfall dons his evening wear and heads out on the town in search of good food, strong drinks, sparkling conversation, and maybe a show.   Theater, food, television, literature, movies, men…his interests are varied, somewhat contradictory, and ever expanding. Find DC on Twitter at: @daninseattle

Jinn Schladweiler – Health & Wellness
Jinn Schladweiler is cat lady and nurse who works on-call night shifts at a detox unit while attending graduate courses in occupational and psychiatric nursing. Comments and questions are welcome at jschladweiler@gmail.com.


Alex Berry – SGS-TV
Alex Berry is a video artist currently working in Seattle as a contract videographer and editor. He creates promo videos for various companies, music videos for local musicians, looping projections in dance clubs, and current event videos for blogs. On the side, he also creates posters for events, composes music, and is working towards making his first feature film. You can check out his site HERE.

Wes Hurley – SGS-TV
Wes Hurley is a writer, performer and an award-winning filmmaker whose films screened across the US and around the world. Born and raised in Soviet Union, he studied drama and interdisciplinary arts at the University of Washington. In 2011 he completed his first narrative feature, Waxie Moon in Fallen Jewel, which he co-wrote, directed, co-produced, shot and edited, starring Waxie Moon, Sarah Rudinoff, Marya Sea Kaminski, John Osebold, Nick Garrison, Lou Henry Hoover, and many others.
L.A. Kendall – Music & Nightlife
L.A. Kendall has been a fixture in the Seattle Nightlife Scene for nearly two decades, playing at and throwing some of Seattle's hottest events. Along with her business partner and manager, David "D$" Richey, she's been behind such popular Seattle parties as: Kiss My Ass, Hot Mess, and Hard Times. She's also worked for the last 4 years consulting on talent for, and curating/managing the DJ stage at Seattle Pridefest.Check out her website here!